People often overlook just how amazing Chicago's health and fitness scene is. The city offers as much variety when it comes to studios as it does restaurants and entertainment. We're not even talking about all of the marathons, triathlons and events that happen on a weekly basis. All of this variety means a few things – you'll never have trouble finding the perfect workout, and there is always something new and exciting to try. We've taken dozens (and dozens) of classes, consulted with experts, chatted with influencers, and worked with our own network of readers and contributors to create our list of the best gyms and studios in Chicago. All of these gyms and studios are worth checking out; most offer a free trial. Take a look below at our *alphabetical* order of gyms and studios.
Barry's Bootcamp
This shouldn't come as a shocker, as we've previously ranked Barry's in our top 3 studios. The top-of-the-line equipment, amazing instructors, and feel of the red room makes you workout harder. Barry's is part workout and part experience. There are no deals for first-timers to try Barry's Bootcamp, but you should still check out a class.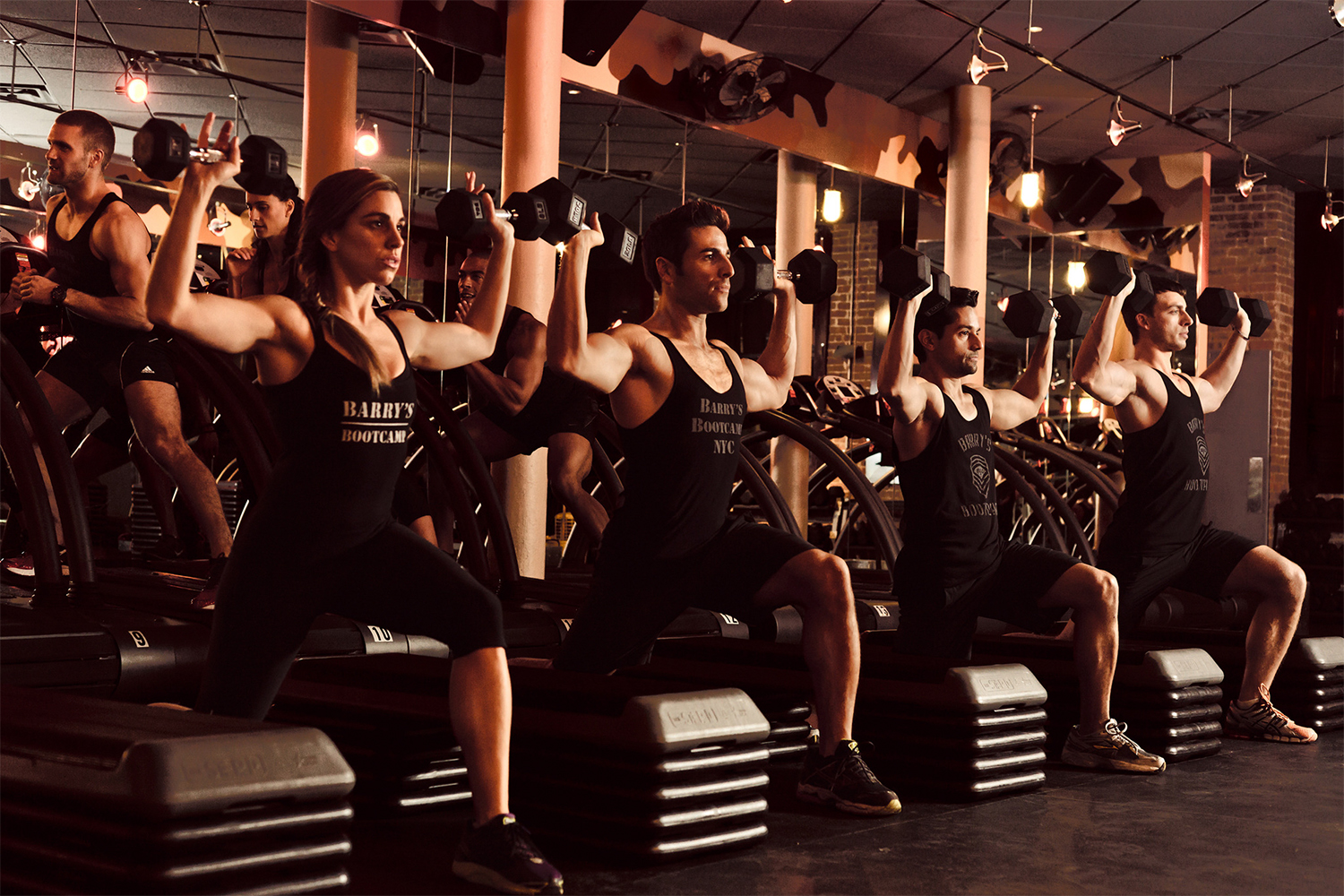 Core Power
Core Power is more than 'just yoga'. The studio offers a variety of classes that can all be done on a yoga mat. We've tried them all. From more traditional yoga to a yoga sculpt bootcamp classes, Core Power offers plenty of options to keep their members happy. We've spent most of our time at the lincoln park location. You can feel it right away; this studio is experienced, established, and knows exactly what it's doing to create a great member experience. Try core power FREE for one week by registering at corepoweryoga.com
CrossTown Fitness
CrossTown Fitness is picking up momentum...big time. We were originally turned on to CrossTown when a favorite trainer announced he'd be joining their roster. The rest is history. CrossTown is different than Shred / Barrys / Studio 3 - it feels less like a 'studio' and more like a private gym. Whereas HIIT classes at other gyms may rely heavily on a few key items (treadmill, dumbbells, etc...), Crosstown incorporates a larger variety of equipment into their workouts. Located in the West Loop, CrossTown offers a first-timer deal of $60 for 14 days of unlimited classes.
East Bank Club
The East Bank Club may have the most recognizable name of any gym in Chicago - perhaps the country. EBC is a staple, so it's no surprise that it makes it onto our list of best gyms. Ask anybody about EBC and they'll taklk about how there's just so much stuff to do: a quarter mile, indoor track, hundreds (seriously, hundreds) of cardio machines, tennis, racquet, squash, and basketball courts. There are two member-only restaurants, as well as multiple indoor and outdoor pools. This place is a behemoth. If you're looking for the mix between gym and club / resort this is definitely your place.
ENRGi Fitness
ENRGi Fitness has made a lot of lists recently, and there's good reason: they're more than a boutique group fitness gym. The hype started back in 2009, and since then ENRGi has grown into a robust group fitness community. Their loyal members rave about the instructors, who keep the workouts fresh and challenging. ENRGi boasts a diverse range of class formats combined with a huge focus on recovery. Try it for an introductory price of $99/mo. or, if you want less of a commitment, $59 for the first two weeks.
Equinox Lincoln Park
There was a day in the not-so-distant past that Equinox set the bar for premium gyms: equipment, aesthetic, products in the locker room, and of course, membership fees. Over the last few years, the idea of premium price has evolved to $50 classes. While all of Equinox's offerings are still top-of-the-top, their price is not. Equinox Lincoln Park offers a great gym at a very competitive price.
Fit Results
Fit Results isn't about competing for the best amenities or the 'aura'. Fit Results is about results, and their workouts are structured that way. Come here to do work and push yourself. There's no funny business, just a great workout. The classes are structured like Bootcamp / HIIT classes on a field. If you're interested in giving this gym a try, take advantage of the new-member deal: unlimited monthly classes for $45.
Fitness 19
If you're looking for more affordable gyms in Chicago, you have to check out Fitness 19. Fitness 19 is $19/month and offers more than enough equipment to justify the price. Fitness 19's Lakeview location holds itself to the highest standard in regards to customer service and cleanliness. The gym is committed to helping members achieve their individual goals. Their knowledgeable and qualified personal trainers are always friendly and available for questions and advice. Fitness 19 is the gym where you can afford to get fit!
Fitness Formula Clubs (FFC Chicago)
If you've looked at gyms in Chicago, you've certainly heard of or visited an FFC. FFC is located throughout Chicago and offers one of the most enticing gym memberships in the city. There's a great roster of trainers, various amenities at each location (from basketball court to spa), and enough equipment to keep all members happy. Priced lower than the equinoxes and midtowns of Chicago, it's earned a reputation of being a great go-to gym. Former Member Note: Don't overlook their classes! They're always refining and trying new classes. It's a great member benefit.
Flywheel Old Town
You probably already know flywheel. They're one of the major players in the cycling space. They also recently launched a competitor to peloton called 'Fly Anywhere'. Flywheel uses a combination of high-intensity trainers mixed with cutting edge technology to push you to push yourself. There are challenge boards showing the leaders of the class, a device on every bike so you can see how you stack-up, and an instructor who encourages you to have your best ride. A favorite feature of flywheel is that you can see your total power during and after a ride, allowing you to measure this ride to previous ones. A huge perk of Flywheel's oldtown location is their Precision Training offering - allowing you to train without using a bike at all. You can check out your first class for $15.
HiFi Personal Fitness
Hifi is one of the largest gyms in Chicago, and it serves those who are serious about fitness. This gym is shared by some of Chicago's best personal trainers, who all use the private facility to train their clients. Daily Spot Master Trainer Grant Weaver calls this place home, so you know this is legit. Out of all of the gyms we've visited, HiFi may offer the largest variety of equipment. It's certainly not wasted, though, as clients consistently give glowing recommendations about their experience. If you're in River North area, do yourself a favor and at least stop by this facility. It's truly, truly impressive.
Iron and Oar
Iron and Oar is run by Daily Spot trainer Dan Hicks. This studio would have made the list regardless. Dan Hicks is on to something. Rowing is a role-player in SO MANY workouts and studios: crossfit, orange theory, Studio 3. Dan decided to make rowing the foundation of his workout, and it pays off big. These classes get you WORKING. Iron and Oar alternates between the rower and weights, as well as the rower and bodyweight cardio. You burn cals like none-other in this class. They're gearing up to launch their new studio in river north. You can get your first class for $10, so there's no excuse not to check out this studio.
Kick@55 Fitness
If you use Daily Spot in the gym, then you already know our approach to success: new routines that update every day. Kick@55 Fitness takes this idea and accelerates it in studio form. New HIIT Bootcamp classes every single day. The Kick@ss trainers are certified and efficient; they can modify the workout on-the-fly to make workouts 100% personalized to the group. This is what makes training so fun - imagine instructors who can adapt to the energy of a group and use it to improve the workout. Kick@ss takes advantage of all types of equipment to make sure you're never bored: barbells, dumbbells, kettlebells, jump ropes, medicine balls, sleds, tires, battle ropes, plyoboxes, hurdles, and more. Starting to feel the burn? They just started offering a new bootcamp which alternates between intervals on the bike and bootcamp circuits on the floor. If you're looking to take it up a notch, this is a must-try.
Lakeview Athletic Club
People living in Chicago have almost certainly passed one of the many Chicago Athletic Clubs. They're everywhere. They're everywhere because they're popular, and they're popular because they offer great value. Sitting between the 'basic' gyms and the premium gyms, these athletic clubs provide you with an exceptional fitness experience. CAC offers state of the art strength training and cardio equipment, swimming pools, climbing walls, the finest group fitness classes, yoga and much more. Their full service clubs allow members to find all they need to reach their fitness goals. Check out their gym or take a class for free with their 1-time guest pass (chicagoathleticclubs.com).
Midtown Athletic Club
Midtown recently opened their entire club again after a HUGE, tens of (hundreds of?) millions of dollars renovation. Midtown athletic club makes a very strong case for being the best all-around gym in the city. The locker rooms are brand new and carry the best brands, there are free classes throughout the day and the facitilies cannot be beat. Midtown has a boxing studio, turf athletic field, yoga room, and possibly the best tennis club in Chicago. The secret is already out on Midtown as it appears they've moved to a one-out-one-in membership policy. Don't expect any deals, but you will certainly enjoy your time here!
Performance Training Systems (PTS)
This is one of two private training facilities that we're including, and we had to include 2 because both are great. Performance Training Systems is absolutely stellar. Every piece of equipment is deliberate, and the trainers know how to incorporate all of the different weights effectively. PTS Chicago is a popular training spot for professional athletes, including some all-stars. This will be a more expensive option, but you if you're very serious about fitness, the extra money is worth it.
Pure Barre (Chicago River North location)
Pure Barre has locations all across the US, but that doesn't mean it offers a generic workout. Perfect for people who are looking for something a little easier on their joints and muscles (lower impact) but do NOT want to give-up serious workouts. It's common for your body and muscles to shake during a Pure Barre class. The instructors and staff keep us coming back for me - and that's why we had to add it to our list. You can get your first week at Pure Barre free - check their website.
Shred415
You learn this in your first class: the 415 in Shred415 stands for 4 15 minute intervals. You'll alternate between the floor and the treadmill in these super-intense workouts. Chicagoans will tell you that Shred offers the same sweat as Barry's, just with less of a scene. Think of Shred's style as all-in-one: this workout targets your entire body (and cardio!). As long as you commit to showing up a few times a week, you will see the results. Give Shred a shot for $60 for your first 3-classes OR, if you want to go for it, $145 1st month unlimited
SoulCycle
SoulCycle is well-known across the country for delivering a high-energy, FUN workout experience. It's no different in Chicago. If you haven't taken a class, you must see what the buzz is about. We have no problem recommending any SOUL location in Chicago (or the country). You can't go wrong with any of the instructors. Get your first 3 classes for $60 (which is buy 2, get one free).
Studio Fit Chicago
Daily Spot reached out to Studio Fit because they're doing something that nobody in Chicago has done before: an all-female fitness studio. Located right off the armitage stop in Lincoln Park, Studio Fit offers a variety of modern exercise dance classes and workshops. You can take yoga, barre, women's boxing and boot camp classes at the same place. We asked Studio fit what makes them special. They're proud to be a safe haven for women looking to make new friends, be proud of their bodies, and find a sense of peace and happiness from within. How can you not love this mission? Between the teachers, offerings, and first-of approach, it's no surprise that Studio Fit makes it onto our list. You can get a first week trial on their website.
Studio Lagree
Lindsey Louis, a Daily Spot writer, has already covered Studio Lagree in depth because it's one of her top 3 studios in the city. Studio Lagree is a lower-impact workout, but still makes you sore like few other classes do. You can read more about Studio Lagree on Lindsey's post, but rest-assured, it was a shoe-in to our top studios. 10/10 must visit - the good news is your first class is $15.
Studio Three
What have we not already said about Studio Three? We've already ranked it our *favorite* studio in Chicago. It's hard to find one complaint with Studio 3. Located in River North, Studio Three offers 3 completely separate types of classes - HIIT, Yoga, Cycling - and each type of class STILL offers variety within it - regular yoga and HIIT yoga. The equipment is all top-tier. Some of the instructors almost have celeb status (What up, Dustin?). Quite frankly, if you haven't tried a class here - do it. Get your first studio three class for $15.
Yoga Loft Chicago
Part yoga studio, part HIIT workouts, Yoga Loft can help you relax after a long week OR burn calories like these more traditional HIIT studios. Couple this with an amazing, thoughtful staff, and there's no surprise that Yoga Loft earned a spot on our list of favorite studios. Try a membership at Yoga Loft for $35 and get an unlimited TWO WEEKs of classes
Yoga Squad
All Yoga studios on this list have one thing in common: an offering that goes beyond traditional yoga. Yoga Squad takes this idea to the next level. The studio offers everything on the yoga spectrum: stretching and recovery all the way to their performance classes, which use dumbbells. We should note that the studio is generally heated, with the coolest temperatures being 'warm' and getting all the way up to hot. You can try this yourself without risk with their entry level deal - $20 for your first week.
Fitness Events in Chicago on Daily Spot
Interested in connecting with these brands beyond their traditional fitness classes? Take a look at Daily Spot's calendar to find free events hosted in and around Chicago.