We read about, visited, chatted with, researched, and reviewed dozens of gyms in Dallas. Below is our [alphabetical] list of our favorite gyms and studios to try. All of these come recommended and you can't go wrong checking them out!
BEYOND Studios
BEYOND has 2 locations in the Dallas area, each offering a different workout concept. At their Henderson Studio, the focus is on interval training. The famous BEYOND500 class (named for the number of calories it's said to burn) gives you strength and resistance exercises, cardio intervals, and mobility training to create an empowering, varying and energizing 50-minute experience. At the Lover's Lane location, they employ the BEYOND PHIT (Pilates Hybrid Interval Training) Method, which combines a mixture of low and high intensity intervals by way of smart pilates moves, strength, stretching and light cardio. Like the sound of both of BEYOND's methods? The good news is that memberships can be used at both locations.
BODYBAR Fitness Dallas
BODYBAR is a dynamic pilates studio located in the Travis Walk development in Highland park. The studio offers a variety of classes all focused on working back-to-back muscle groups through dynamic movements, isometrics, and cardio drills. People of all fitness levels are welcome in any of the classes, as the knowledgeable instructions offer modifications to safely challenge you. Just be aware that BODYBAR's main objective is to get its clients comfortable with being uncomfortable, because that's where change takes place. The studio offers an unlimited two week trial for newbies at just $59. And they have an exclusive juice partnership with Tribal Juice and sell their juices in their studios.
City Surf Fitness
City Surf Fitness is inspired by the chill oceanside lifestyle, and the classes are done barefoot, but don't let that fool you into thinking the workouts are easy. Located in Uptown at 2805 Allen St., City Surf offers surf-inspired strength and conditioning classes on their stationary stability surf boards. Each class is either 35 or 50 minutes of full body exercises, which lend to significant increases in core stability, posture, coordination and reaction time. Considering each move is done on a wobbling surfboard, these classes are challenging and humbling for even the most athletic types. The instructors teach good form above all and they're skilled at correcting without singling anyone out. Added perks are the beautiful surf videos played on the walls during class, the energizing tropical house music, and the welcoming community this little studio creates. If it's your first time visiting, you can buy one class and get another free.
Class Studios
Located in the heart of downtown Dallas, Class Studios is a swanky boutique fitness studio offering two targeted group classes. Cycle45 is a rhythm-based spin class with pumping music and high energy, while Train45 is a HIIT-style bootcamp class featuring rowers, plyometrics, weights, and TRX suspension training. Both workouts are intense in different ways, but the instructors are thoughtful and provide modifications for all fitness levels. The gorgeous, white-marbled studio has over 100 lockers for daily use (with locks installed to each locker so that you don't have to worry about bringing your own), plus the showers are divine and offer amenities from the Malin and Goetz Apothecary line.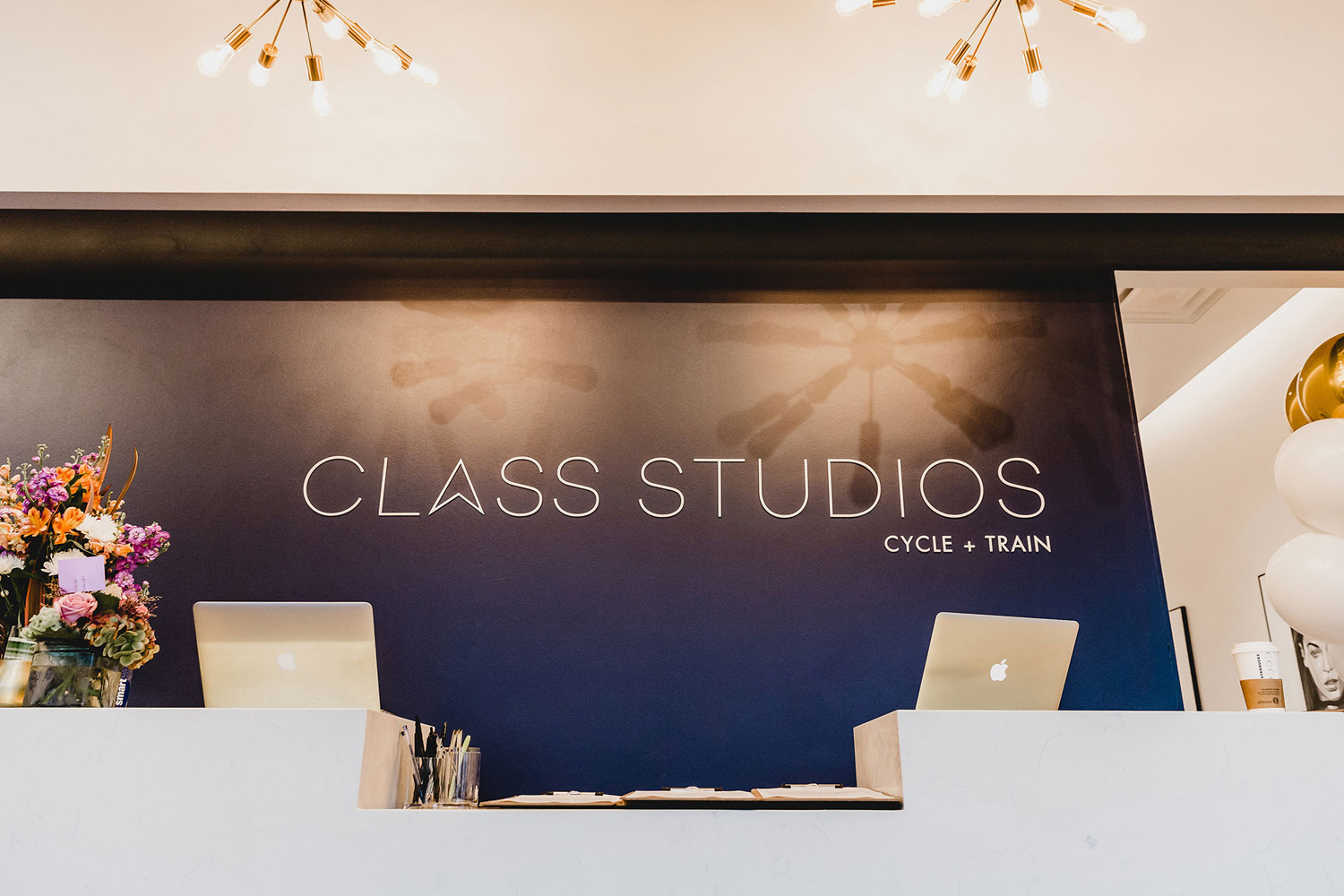 Exhale Dallas
Dallas' Exhale Studio and Spa offers award-winning fitness classes and top-of-the-line spa therapies in a posh space centrally located next to The Highland Dallas. Their spacious studio rooms are a luxurious retreat from daily life. Whether you find yourself at one of their Barre, HIIT, Cardio or Yoga classes, you're sure to be well looked after by their expert instructors. In addition to the top-notch group fitness, Exhale has all the offerings of a high-end day spa (showers, steam rooms, massage, acupuncture, mani/pedi bar, even a couple's therapy room), plus a trendy boutique and well-amenitized changing rooms.
Flywheel
Flywheel is an indoor cycling studio with a twist. The studio offers 45 or 60 minute spin classes, set to carefully curated playlists and instructed by energetic experts, but they take the ride to the next level with some casually competition. Each bike allows you to track your real-time stats, including targeted resistance level, RPMs, and total Torq (their name for all-around power). Large monitors set behind the instructor allow cyclists (using nicknames) to see their stats as compared with other riders, fostering a motivating and encouraging atmosphere. The cool thing is, you can opt out of transmitting your stats if that's not your thing. To round out the cardio and spin-work, Flywheel now also offers Flybarre, a set of off-bike strength training classes focused on specific muscle groups. First timers get their first class for $15!
Grit Fitness
Grit Fitness is the beautiful brainchild of owner Brittani Rettig. This amazing woman hand picks each of the inspiring instructors to lead her clients through the 15 varying and original music-driven group fitness classes (that she herself created). The workouts are diverse, but all of them are intense and upbeat. The studio rooms are dark, decked out with neon signage, vibrating with hip hip-heavy playlists, and full of palpable energy. Grit by Brit is all about passion, variety, positive energy and perseverance. First month of unlimited class at multiple locations only $75 for newbies!
Larry North Fitness
Larry North is Dallas's best known fitness celebrity, and even after 30 years in the game, he's anything but stale. The newest location of Larry North Fitness is located in Preston Center, boasting the same amenities that keeps Larry's current 5,000 clients coming back - top-of-the-line equipment, an emphasis on personal service, an extensive list and variety of group classes, and a strong sense of familial community. To cater to the millenial crowds, this new space has incorporated rich wood flooring, warm lighting, and a massive graffiti wall. The roster of expert instructors teach a plethora of group classes, from Cycling and Yoga to Boxing and Tai Chi. And for those times when an hour at the gym isn't enough, Larry North Fitness also offers chiropractor and massage sessions, as well as health coaching and weight management programs. New clients can try a week free at either Dallas location by texting LNFIT to 95577.
Lync Cycling
Lync is a cycling studio that puts community above all else. The studio is so committed to fostering the link between rider and instructor that they named the studio after this connection. Each of the Lync instructors started out as a client, and believed so strongly in the workout and the studio that they trained to become part of the team. The classes offered are 45 minutes of choreographed beat-based cycling on Kieser bikes (you clip in and can really push yourself on these things). The studio has cubbies for your belongings, as well as showers and changing rooms. First timers ride free and also get free shoe rental.
Orangetheory Fitness
Orangetheory Fitness offers guided classes that combine three aspects of fitness into one 60 minute workout: science, coaching, and technology. The idea behind each class is to get your body to an optimal heart rate, what they call the Orange Zone, in order to increase metabolism and fat burn long after the workout is over. To get you there, Orangetheory employs certified instructors to guide the group using treadmills, bikes, striders, rowers, suspension trainers and weights. The technology comes in with their OTbeat bands, which measure your heart rate and performance data and send an email summary detailing calories burned and other metrics at the end of each class. The workout is different every day, and offered at over 10 different times, so you're always challenged and without an excuse to miss a day. First class is free!
Paradigm Gym
This gym may be on the smaller side, but it packs in some serious cutting-edge amenities. Paradigm Gym accommodates all types of clients with their variety of out-of-the-bos equipment, like weight sleds, tires, battle ropes, Airdyne bikes, and row machines. If you're into traditional and olympic-style weightlifting they have that too. And their group class offerings are no less innovative, with names like Ropes and Rows and Pop Lock and Squat It. But the real leading-edge amenities are the 3D body scanner, to analyze your body's makeup and help customize your workouts and health choices, and the Infrared Sauna, a cocoon of relaxation and detoxification.
[solidcore]
Asking for a workout unlike anything you've ever done before? [solidcore] may be your answer. The workout is pilates-esque, done entirely on a resistance-based machine they lovingly call [sweatlana]. The classes focus on slow, controlled movements in order to reach second stage muscle failure in each targeted muscle group. They'll have you shaking in even the smallest muscles of your body! Many clients with shoulder, knee, hip and back injuries get a great workout in [solidcore] because it's low impact and easy, even strengthening, on the joints. The machine and the workout itself can be modified—and amplified—to work for each individual client. And with a maximum of 15 machines in most studios, you'll get the personalized attention and motivation you need from the coaches in every class.
SoulCycle
There's no surprise SoulCycle is on this list. The New York–based cycling studio chain set up its first Dallas location in Uptown and has since added another to Preston Hollow. The 45-minute high-intensity rides take clients through an energetic workout, with lots of handlebar push-ups and ab crunching choreography. All the hype around SoulCycle is warranted - the experience is enlightening and the workout is killer. The Preston Hollow location offers classes like Hip Hop Friday and Evolution of Drake, names to get you amped up before you even get on the bike. Just starting your soulcycle journey? You'll get your first 3 rides for $60.
Studio 6 Fitness
Studio 6 Fitness is proud to offer four locations for Megaformer™ classes in Dallas. Using the Lagree Fitness™ Method, the beloved workout of celebs, their classes are scientifically designed to strengthen, lengthen and tone the body by focusing on 6 key fitness principles - Core, Strength, Balance, Endurance, Flexibility and Spirit. Using slow, controlled movements coupled with quick transitions, these classes elevate your heart rate and get your body in fat-burning mode. Your body is working to the point of fatigue so rest days are encouraged. give it a few days to rebuild and then get back in the studio with us. The expert trainers swear that clients who come 2-3 times a week see great results in only a couple of weeks! Check this place out - they offer first timer and student discounts.
SWEAT
SWEAT is an high-end, high-energy, workout space with a serious attitude towards fitness and results. They provide a full-service and comprehensive experience for individuals who are passionate about fitness. In addition to a sleek, modern gym space, they offer nationally-regarded group classes, like Jillian Michaels, Pilates and HIIT. All of SWEAT's instructors are well educated in their respective fields and hold credentialed designations. They employ Certified Holistic Health coaches, American Association of Drugless Practitioners members, and NASM Certified trainers. Free week membership offered to all newbies!
The Barre Code Dallas
There are a lot of barre class offerings out there these days. But The Barre Code offers something more. With classes like Brawl (Barre with a cardio kickboxing twist), Burn (heated room Barre), and BarRestore, The Barre Code is a one-stop-shop for your cardio, strength training, and restoration. Their original Barre Code class, which started it all, is a 50-minute full-body workout, targeting the arms, abdominals, thighs, and glutes via isometrics, heavy reps, and intense stretching moves. Each class incorporates different props and equipment to aid in resistance and stretching. Their following is comprised of all ages and fitness levels and the instructors keep the class challenging without leaving anyone behind. New client offer of one month unlimited for only $89.
The Ride House
This 3,000 square foot spin studio, located in the Pavilion on Lovers Lane, has a perfect 5-star Yelp review thanks to its posh ambiance, variety of classes, and thoughtful amenities. Most workouts are 45 minutes of music-based indoor cycling, with names like BRUNO 24K MAGIC MONDAY and TRAP QUEENS TUESDAY. These numerous daily class offerings, along with their 30 Min. Express Rides, allow you to easily fit the workout into to your schedule. The Ride House also offers luxe changing rooms, showers, and a full stretching studio for use outside of spin class. Looking for an upscale, low attitude cycling studio? We think we found it.
Tread Fitness
When you only have an hour to get your sweat on, you want to make it really work for you. Tread Fitness is here to do just that. They offer 60 minute group fitness classes that incorporate toning and strength-building exercises with 10 to 15 minute treadmill intervals. You get cardio, weight-training, and a little dance party all in one efficient workout. The music in each class is a great motivator and the high energy of the instructors makes the hour fly by. Tread also offers specialty classes targeting specific muscle groups, like Abs or Glutes & Calves. There motto is FAST RESULTS and that's exactly what you'll see with Tread!
ZYN22
At ZYN22, you ride to the beat of the music. The instructors use the bass and tempo of expertly curated playlists to guide riders through varying speeds, inclines, and positions during the 35 and 45 minute cycling classes. You can also tone it up after you tap it back at their ZYN Sculpt class, a off-bike energetic full-body workout that strengthens and lengthens each major muscle group while continuing to use the bass-pumping music as guide and motivator. The locker rooms are stocked with complimentary Aveda products and everything else you need to get ready after class. To round out your health endeavor, they even offer a nutrition program that compliments the workouts and helps get you to peak performance. Newbies get their first class free!