We've heard about, read about, visited, connected with, and / or enjoyed trainers from various gyms in Los Angeles. This has allowed us to develop Daily Spot's list of the best gyms and studios in Los Angeles. Whether you're looking for the hottest new studios, trying to find a specific type of training, or you're on a budget, this list has everything you need to find and test your perfect gym. Find the *alphabetical* ordered list below:
Aura Los Angeles
Aura has a lot of things going for it: enthusiastic staff, available parking (don't overlook this in experience!), new equipment (read: new cycling bikes), and, most importantly, awesome instructors. Couple this with an all-time LED light set-up, and now you have a convenient, enjoyable, all-in-one fitness option. Aura offers a variety of options ranging from cycling and yoga to strength training. There a tons of classes throughout the day. Pro Tip – if you're looking to try out Aura cheap, check them out on groupon.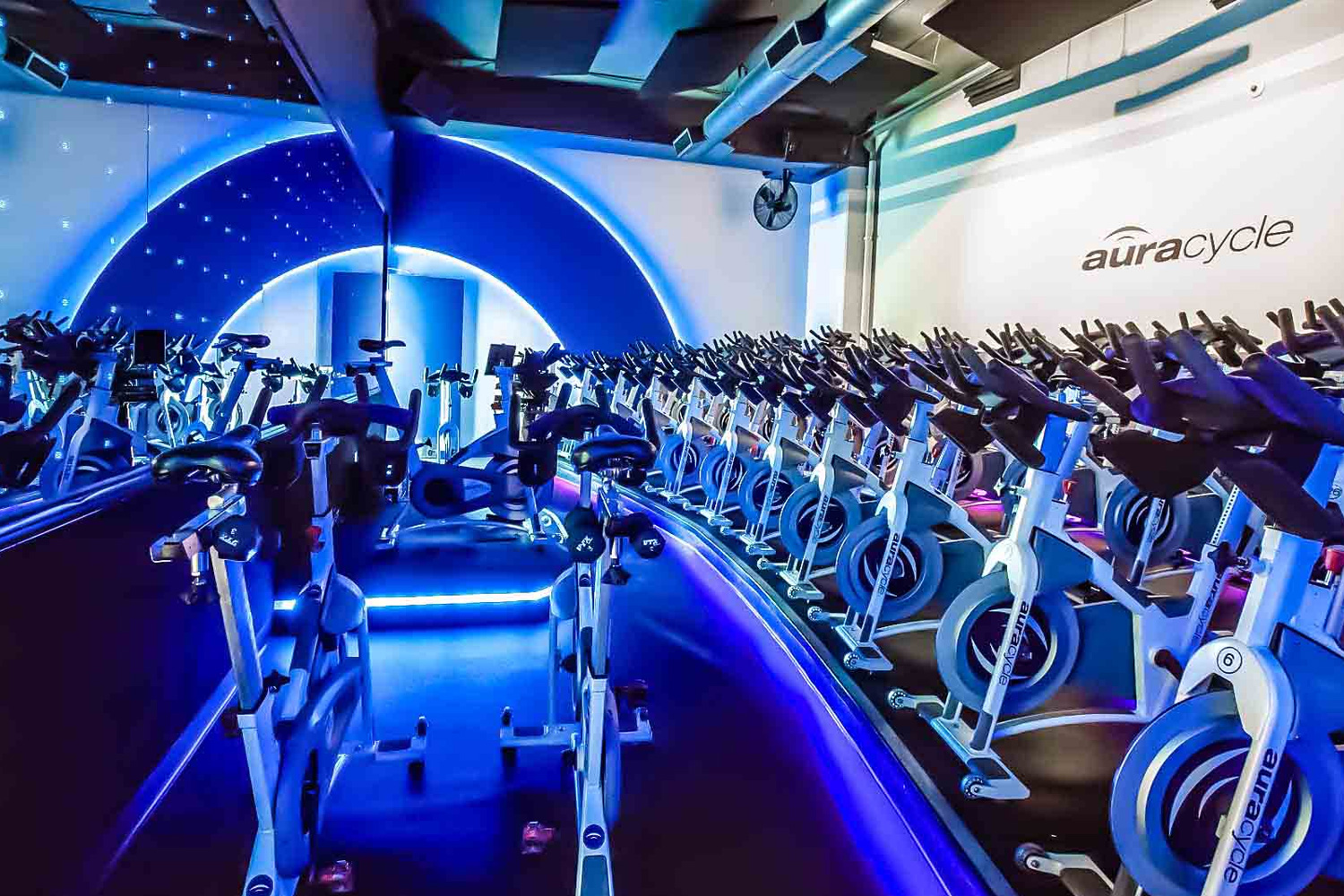 Brick Los Angeles
Brick L.A. is one of many Brick locations across the country. While they offer crossfit classes, Brick is not like a traditional crossfit gym. They offer a broader range of classes. There's traditional crossfit, 'B/X', which is higher rep HIIT training (preferable as lower impact alternative to crossfit), as well as kickboxing. When you talk about crossfit studios, most people know what to expect: challenging workouts and more of an industrial atmosphere. What this means is that it often comes down to the instructors and community to make the experience great. This is one advantage of Brick. Check it out with a 1st timer buy-one-get-one-free offer.
Cliffs of ID
If you haven't bouldered or climbed before, you have to try it. What is bouldering? Imagine a huge adult playground that is so fun and engaging that you forget you're working out. Cliffs of ID is one of the best bouldering gyms in LA. There are tens of thousands of square feet for you to explore, climb, and challenge yourself. The idea of bouldering is simple: climb up a wall on a specifically designed path. Even if getting from point a to point b is 20 feet, you'll be tightening your core and your grip like never before. Check it out and see why bouldering is becoming so popular and Cliffs of Id does it so right.
CrossFit Hollywood
CrossFit Hollywood has earned it's reputation as one of the best 'boxes' around. Defined simply: crossfit boxes are gyms with all the essentials and not a whole lot more. That may sound unappealing for people looking for the amenities. And if it does, this gym probably isn't for you. When you remove everything, you're left with the most basic ingredients of a workout: routine, coaches, and community. This is why CrossFit Hollywood has a spot on our list. This box will give you grade A coaching with a community that does not stop.
Easton Gym
How can we describe Easton better than 'it's not your typical gym'? That phrase has so many meanings in this industry, but for Easton it's different. You can tell right when you walk in; the aura is just unique (in a good way) in this place. There's parking, adequate machines, and an 'old-school, but still new, but still cool' feel. The classes are raved about – from TRX to boxing. If you're looking to get away from the more main-stream gyms, you have to take a trip out to Easton.
Fast Lean Fit
Fast Lean Fit is another gym on this list that does things a little differently. Fast Lean Fit is about personal and semi-personal training. They offer packs of 'sessions', where you commit to a trainer 2-4 times per week. You can also do open gym for $50/month, but the main reason people love this gym is the training sessions. Fast Lean Fit is one of the most affordable, convenient options we've found for high-quality personal training. As a few people who have been there, and they'll tell you that their trainers make them WORK in 30 minutes. The pricepoint is a bit more than a barry's bootcamp class, however, the 1-on-1 coaching cannot be overstated. It's like you're getting the same workout, in less time, with someone who is 100% focused on YOU. That's why we've added FLF to our list
Flywheel Sports
We've already ranked Flywheel as one of our top studios in Chicago, but that doesn't mean we skip it in LA. Flywheel has their programming dialed in, and it's consistently a top recommendation across all US cities. If you haven't been to Flywheel, you've likely seen them…everywhere? CNBC, Shape Magazine, Well and Good, Allure and Huffington Post… the list goes on. If you aren't familiar, Flywheel is a high-intensity cycling class where an instructor takes you through a new ride set to a curated playlist. You can see your stats on each bike, so you'll know exactly how hard you're working during each class. This also makes the instructors job easier to give you cues. Locals have nothing but positive things to say about Flywheel; try any teacher, they're all top-notch.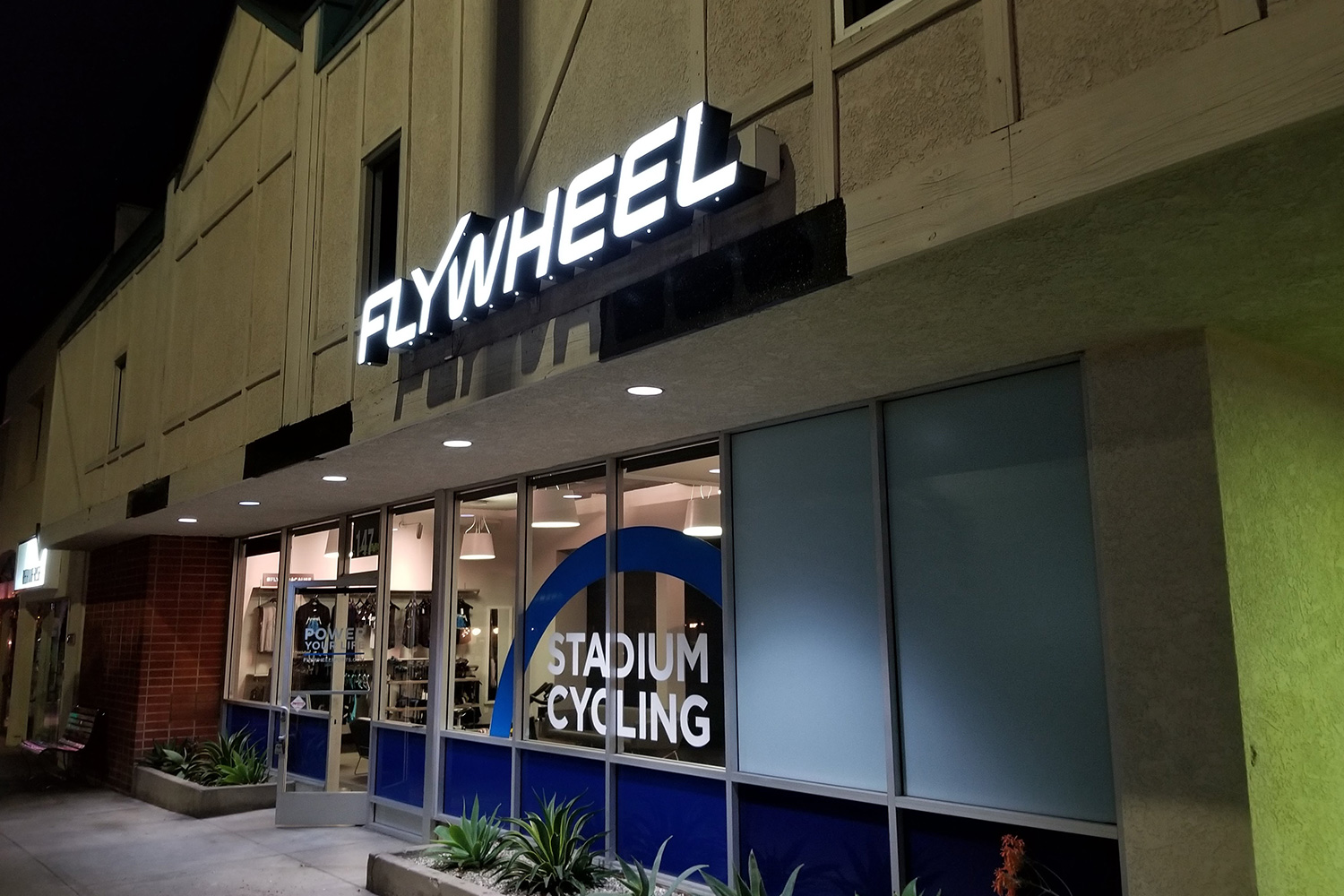 Foxy & Fierce
Foxy & Fierce is a women's kickboxing boot studio on Sunset Blvd. F&F primarily offers Muay Thai and kickboxing classes. This means high intensity cardio with some light weights and basic boxing movements. You'll see a lot of apps talk about 'bootcamps' geared to help women get in shape, but few will rival F&Fs dedicated Bikini Bootcamp. The F&F members are huge fans of the instructors and owners, who can help teach and support you while you learn the basics the right way. Take advantage of one of their free intro classes on Sundays at 11:15. You'll get a taste of muay thai conditioning and quickly learn how these classes can burn 600-1,000 calories in an hour!
Gold's Gym Hollywood
Gold's Gym may be the most reputable gym of the last 50 years. Anybody in the fitness industry has heard of Gold's. The gym is Hollywood is a great example of what Gold's stands for and excels at: good gym, great value. There are classes, of course, but the thing that stands out at Gold's is how serious the crowd is. People come here to take advantage of the huge variety of equipment and the competitive price.
LIT Method
Now this is something new that we LOVE. LIT Method alternates between rowers and bands to give you the best 'low-impact-training' class in town. Rowing is an integral part of some of the major studios across the country. There's good reason – rowing gives you an insane workout. Couple that with high rep bands and you end up exhausted with sore muscle, but not a care that you overdid it with weights. The environment is top notch. We think LIT method is one of the first to discover the need for a great, low impact style workout that doesn't feel like you're doing less.
Orangetheory Fitness
Owners and trainers at OTF think "THIS IS WHAT IS POSSIBLE" with OTF, and they believe it. They believe that OTF will lead to a longer, more vibrant life. OTF brings you workouts backed in science, with the newest equipment, and experienced, motivating coaches. Hear it straight from Ellen Latham, one of OTFs founders: 'I have been studying exercise for over 40 years and it is more than just moving people around. It is tapping into their heads, belief systems in how fitness has affected them the past. I love being in the influence business even though many think I am in the fitness business.'
Prevail Boxing
Prevail Boxing is LA's premier fitness boxing studio, offering a clean and welcoming setting that focuses on getting fit through the art of boxing. Prevail incorporates the mental, physical, and emotional challenges of boxing into a fitness regimen and lifestyle. By providing high-energy group classes that are designed to test your limits and help you exceed your own expectations, Prevail uncovers what it truly means to realize your potential. The SWEAT is what its community knows it best for – it's the perfect blend of fundamental boxing technique & the latest in full body conditioning packed into a high-energy, music-fueled circuit workout aimed at helping you achieve a killer physique & a champion mindset.
Rise Nation
The versaclimber is the device of 2019. Sure, it's still 2018, but we expect this machine to be what people rave about next year. You can see it on all of the celeb trainer's Instagram accounts. Slowly, the versaclimber has gone from a test cardio machine, to a regular warm-up or sprint, to now, the foundation of workouts. Rise Nation is ahead of the curve. The way the versaclimber works your body is different than anything else out there, and Rise Nation has made it their goal to take you from new to confident as quickly as possible. The staff makes you feel comfortable on these machines, the workouts will push you incredibly hard, and you'll leave realizing that you CAN get 1 hour worth of results in just 30 minutes. Looking for something new? You have to try Rise Nation.
Set and Flow
Founded by Seth Manheimer and located in Los Angeles, Set and Flow is a hybrid movement studio offering more than 150 unique and traditional classes per week. Rooted in yoga, Set and Flow has evolved into an "All-tique," offering a variety of all boutique modalities under one studio. Set and Flow provides a new, forward-thinking and modern approach to traditional practices, with plenty of classes blending seemingly diverging workouts, including yoga, TRX, boxing, pilates, barre, bootcamp and circuit training. This winter, the expansive studio will add two more rooms and modalities to its repertoire, Pilates reformers and indoor cycling. For more information, check out setandflowyoga.com.
Studio Lagree
At Daily Spot, we're all over this place. This workout will make you feel muscles you didn't know existed. It's cliché, but you'll understand what we're talking about after you try it. The style is lower impact, but the way the Lagree works you on the reforming is…..the best, We've ranked Studio Lagree on all of our lists – Chicago, best studios, etc… The fact that there's a studio lagree in LA means you need to check it out.
Sweat Garage
People often think of Barry's Bootcamp when they hear about treadmill and floor work. That's simply not the case. Another gym in LA that focuses on alternating between the treadmill and floor is Sweat Garage. The basic structure of sweat Sweat Garage classes are the same, but you'll be pushed to target a different part of your body every day. This means it can be an all-in-one gym. It's clear to see that while the formats are the same as barry's, the workouts are definitely different. Sweat Garage pushes you to use these machines differently – for example, you aren't going to be cranking your incline up to 12 here, but the coaches still manage to push you through a great workout. When you join, you can buy one get one free for $26.
Training Mate
Training Mate is exactly what you'd expect out of a gym that is the brainchild of a former professional Rugby player. It has a ton of equipment in an unassuming space. The gym workouts are a 45-second HIIT stations. The trainers are called 'mates', and while they're friendly as can be, they will really push you in your workout. Your first class is free, so check out this style and see if it's for you.
Wilfit Sports Club
This list is not just to find the most expensive and newest gyms in LA. It's to find the gyms that offer something special. Given the price, it's no surprise that Wilfit makes it onto this list. Priced competitively to 24hour fitness, which is down the street, Wilfit offers a cleaner, less crowded gym with all of the equipment you need. If you're looking to pay around $50/month on a gym (after promotions), then this is a place we think you should check out.
Looking to Explore?
Check out our fitness calendar (button below) and see FREE workouts hosted by your favorite brands and gyms around the city.